Simply the best
Trekkers' Hub in Pokhara
Street 17, Lakeside, Pokhara, Nepal
The Mountain House is a clean and comfortable family run hotel in Pokhara. The hotel offers the best value for money rooms in Pokhara and is popular among adventure trekkers and travelers. Cleanliness, comfort, value for money, staff and location are the highly rated values of the hotel in Pokhara. The hotel is run since 1997 by the family from the village of Annapurna range of mountains and have impressive experience in arranging treks all over Nepal working with licensed and professional local guides. The hotel is at Street 17, Lakeside, three minutes walk from the main street and five minutes walk from the Phewa lake. Contact us for your bookings and inquiries.
We are a family from the Annapurna range of mountains.  We started our hotel in Pokhara since 1997.  We are grateful to have served our guests from all over the world since more than 25 years.  The Mountain House is a clean and comfortable hotel in Pokhara.  A family run hotel in Pokhara that makes the guests feel like home.  We offer the best value for money guest house in Pokhara. We are located at Street 17 in Lakeside, Pokhara. We are budget hotel in Pokhara serving our happy guests since a long time.We are available in booking.com, Hostelworld, TripAdvisor and Google.

Verified
Superb

Shrijana
February 18, 2022.
Verified
Exceptional ☺ The view and the hospitality was simply awesome, I really love to be there again and again, Best place to recommend, 🇱🇰🇳🇵

Christopher
January 23, 2022.
Verified
Excellent hotel, peaceful & helpful owners ☺ Indira and her family are very friendly and peaceful, and able to help, even when I asked for things with very short notice. I was always asked if I needed anything and was always offered tea. I was never asked to buy a tour etc but if I did ask about anything I was given great help and advice. The place is very relaxed, clean and beautiful. There is a large new yoga and meditation room up the top which is great! Shower is always hot, wifi worked well. Really nice place, big clean bathrooms too with nice tiles. ☹ One night of the dogs on the street barked, I didn't mind too much but Indira moved me to an even better room up the top so I wouldn't hear it again if it barked.
Jean-baptiste
January 17, 2022.
Verified
Exceptional

Nabeeha
January 15, 2022.
Verified
The Mountain House is a fantastic place to stay if you want to feel at home and safe! It is lovely. ☺ We loved our stay here! Indira and her family are wonderful and kind hosts, always ready and willing to have a chat and help with anything we needed. We were treated like family and made to feel very comfortable in the rooms. They made our stay very easy and fun. The location is also fantastic and they offer yoga and meditation.

Mahfuzul
January 14, 2022.
Verified
Exceptional ☺ Excellent service and guest friendly behaviour ☹ Strongly recommended

Verified
Excellent room and environment
The amenities we offer are:
Comfortable bedrooms with furnishing.
Clean and Spacious Attached bathroom.
Free parking
Free Wifi
Garden
Yoga and Meditation Hall
Multipurpose Hall
Library
Travel Desk ( The Nepal Treks ) The Nepal Treks is our sister company arranging trekkings all over Nepal since 1997.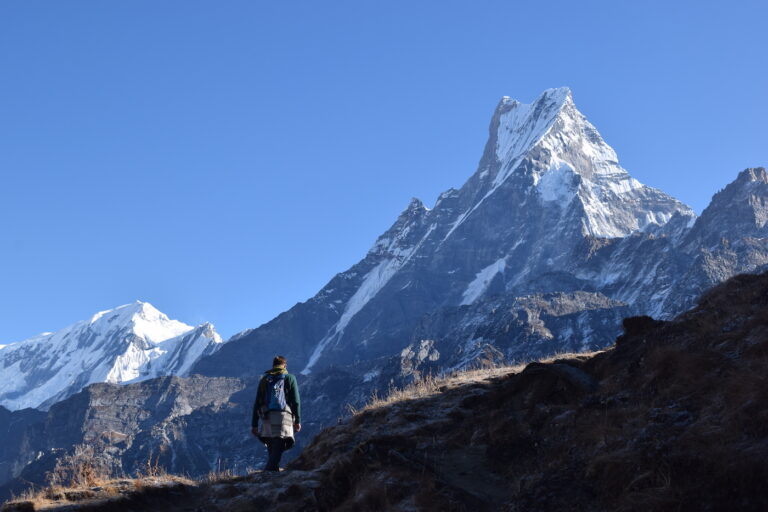 Rogier B
December 6, 2021.
Verified
Very pleasant stay Had a wonderful stay for 3 nights after Annapurna circuit. The beautiful garden, clean room and hot shower is just what I needed. Indira and her family are so friendly and welcoming, and can help you with everything. They also have a yoga/meditation place on the rooftop. The location is perfect. Very close to the buzz of Lakeside Road, but still nice and quiet. Will definitely stay here again if I come back to Pokhara.

Riya Jo
October 13, 2021.
Verified
Home away from home We were on our way to Pokhara from Mustang and tired so we randomly checked hotels and ended up finding Mountain House. We were so glad we did! The place made us feel home. Lovely ambiance, great rooms and comfortable beds! Aunty was very friendly with us. No doubt she is with others too. And not to forget, Tanku the lovely dog welcoming us at the entrance of the hotel. I would defo suggest anyone to stay at this lodge. You won't regret. It's cheap and qualitative.

Verified
Pearl in Pokhara A nice, familyrun hotel with big and very beautiful rooms. Everything is very clean. The Location is perfect, just a short walk to the waterfront. Very calm and therefore the perfect place to stay in Pokhara, especially for yoga lovers: they have a new yoga hall at the rooftop. We can highly recommend this beautiful gem and will come back as soon as possible.

Twist Sa
October 2, 2021.
Verified
Serenity Stayed for a week.Best No Its way too far much better.Most happening thing is (Chantey)🐕 N course Views.Such Blissful Place to enjoy n feel Youself. Such a cozy Homely Place.Aunty N uncle such a adorable ppl made Us feel like we're home.One of the place to stay in Pkr to make uncountable memories.

Verified
Clean, quiet and hot shower! I stayed for a couple of weeks in The Mountain House and I really enjoyed my stay here. After spending some time in various hotels in Pokhara, this was definately the best one: it is quiet, has a nice comfortable bed and a hot shower, just what I needed! And for a good price. Indira, the lady of the house, and her family were very friendly and welcoming. Indira even cooked a delicious Dal Bhat for me once! I was almost the only guest, as there are not so many tourists yet, due to Covid. The hotel is located in a quiet area of Lakeside, on short walking distance to the main street. If you like yoga, there are also daily yoga classes in the Mudra Yoga Studio, above OR2K restaurant, only 5 minutes walking. You can also do your own yoga practice on the rooftop of the hotel, they just built a big yoga room (they might offer yoga classes in the future also, who knows). I highly recommend staying at The Mountain House! And don't miss the little restaurant across the street, it has very good Nepali food! I ate there almost every day before heading into town 🙂

Verified
Absolutely recommend Perfect location, great amenities and absolutely lovely people. Recommended to anyone looking for a nice and cozy place in Lakeside Pokhara. Whether you are a group or a solo traveller, there's something for everyone.

Verified
Great accommodation, lovely people We were a group of 4 that were stayed 5 days at the mountain house when lockdown started in March after completing the Annapurna circuit. Indira and Stan were so helpful and accommodating to us, assisting us in anyway they could while also going through the same lockdown stress as everyone else. The mountain house is very clean and reasonably priced, located only 5 mins walk from lakeside. They have a lovely garden, and there is a rooftop great for morning exercise or yoga with views of the mountains. I would highly recommend the Mountain house for anyone staying in Pokhara.

Ulisses Nunes
March 13, 2020.
Verified
Highly recommend! My dad and I stayed at The Mountain House after getting back to Pokhara from a 12 days trekking to ABC. The place is beautiful, super clean and the hospitality is just amazing. Indira made us feel like home and provided all the informations and necessary care for our stay. Also, the Landry service was amazing! My clothes were smelling soooo nice! Also, the location is just perfect, close to everything and only a few minutes from The lake. I highly recommend this place! They will provide everything to make your stay even more amazing!
Verified
Lovely place, lovely people. My friend and I stayed here on two occasions during our Nepal trip. The hotel itself is very clean and a great price. Very close to the main streets in Pokhara and directly across the street is a small eatery which is great value. The owners of Mountain House were so friendly, I felt like I had known them for years. Would absolutely stay here again.